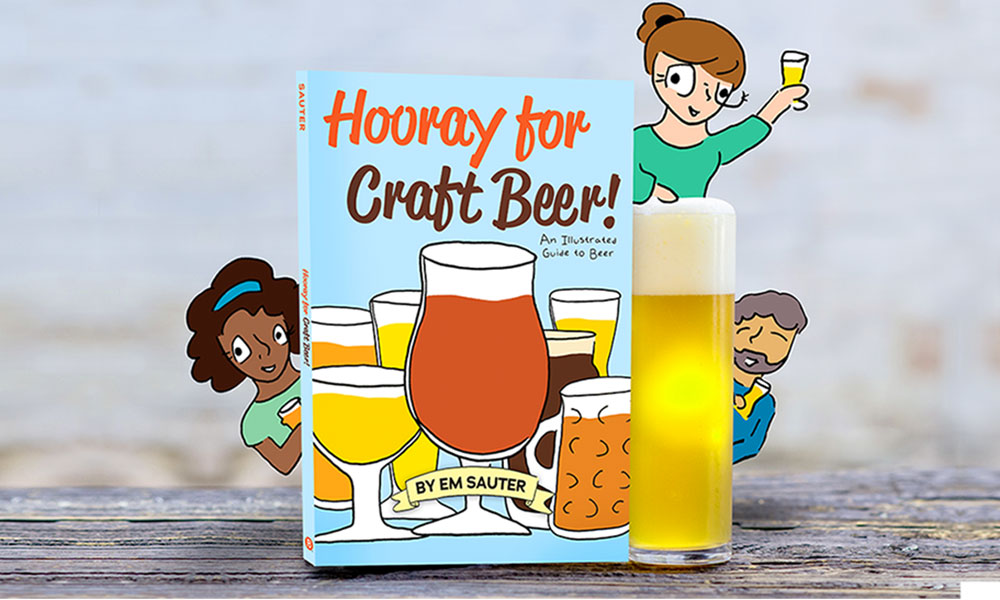 Boulder, Colo. • March 29, 2022 — Oftentimes, picture books break down complex ideas into their simplest sense. Hooray for Craft Beer! An Illustrated Guide to Beer, the latest release from Brewers Publications®, provides a whirlwind illustrated journey for those wishing to visually digest and learn more about craft beer.
Told through wit, humor, and 100% illustrations, Hooray for Craft Beer! by Em Sauter is an entertaining and informative journey through the history and world of craft beer. Readers will discover styles of beers and learn about their origins, all while enjoying Sauter's whimsical cartoons.
"Craft beer is an artistic hobby and industry, and I've always advocated for fun beer education to open the doors for everyone to participate," said author Em Sauter. "Hooray for Craft Beer! is a simple, easy-to-read guide to learning through illustration. From the ingredients and brewing process to glassware and how to taste beer, this book is perfect for both the person starting their beer journey or the craft beer aficionado wanting to dive even deeper into what's in their glass."
Sauter is an Advanced Cicerone®, cartoonist, author, beer reviewer, international beer judge, certified Beer Judge Certification Program beer judge, and public speaker who runs the award-winning website Pints and Panels, which focuses on visual beer education. She also holds an MFA in cartooning from the Center for Cartoon Studies.
Hooray for Craft Beer! is on sale on March 29, 2022, at BrewersPublications.com and available for preorder at book retailers. From March 29 through April 5, Brewers Association and American Homebrewers Association members receive an exclusive 25% off the retail price of $19.95 and all BrewersPublications.com orders receive free standard U.S. shipping with the purchase of Hooray for Craft Beer!
Brewers Publications supports the mission of the Brewers Association by publishing books of enduring value for amateur and professional brewers, as well as titles that promote understanding and appreciation of American craft beer. With more than 60 titles to choose from, Brewers Publications is the leading publisher of contemporary and relevant brewing literature for today's craft brewers, homebrewers, and beer enthusiasts.
Those interested in reviewing Hooray for Craft Beer! An Illustrated Guide to Beer may request a review copy here. To schedule an interview with the author, please contact Erin Key, Backbone Media. For more information, please visit the Brewers Publications website.
Hooray for Craft Beer! An Illustrated Guide to Beer
Author: Em Sauter
ISBN: 978-1-938469-73-2
EISBN: 978-1-938469-74-9
Size: 7" x 9.875", 208 pp
Format: Paperback
Cover Price: $19.95
Publication Date: April 25, 2022
Contact: Erin Key, on behalf of the Brewers Association, 970.963.4873 x1232