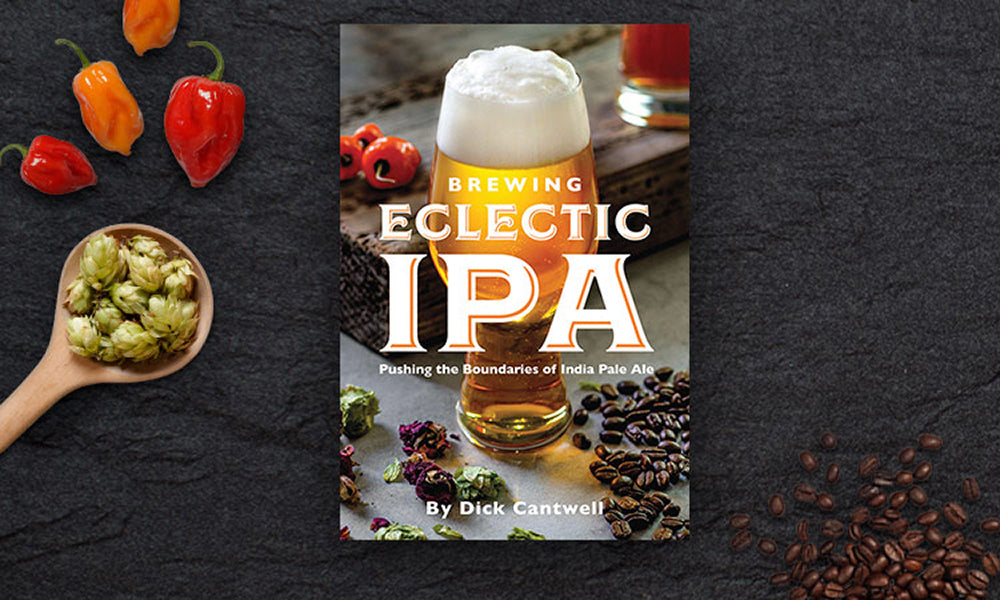 We are excited to announce the release of Brewing Eclectic IPA: Pushing the Boundaries of India Pale Ale by Dick Cantwell.
India Pale Ale (IPA) is the leading craft beer style in the U.S., and Brewing Eclectic IPA explores the style's evolution, provides guidance for designing unique beers, and 25 original IPA recipes.
The Brewers Association reports that IPA is now the third most popular style of all beers, following only American lagers and light lagers. IPA has 3.1 percent of the total beer market by volume, 6.4 percent in retail dollar sales, and is between 24 – 33 percent of the craft category.
"There's no mistaking that we are living in the heyday of IPA," declares Cantwell. "We're enjoying a style of beer that would have been deemed undrinkable by its earlier 18th and 19th century consumers. Brewers are using a wide range of ingredients, from cocoa nibs, coffee, fruits, and vegetables, to spices, herbs, and even wood, to push the boundaries of the style." Among the most well-respected and experienced craft brewers in the world, Cantwell provides scores of tips and methods for first-time brewers and beer veterans alike to concoct a delectable brew and shares the story of how and why the proliferation of American IPA came to be.
Dick Cantwell co-founded Elysian Brewing Company in 1996, where he served as head brewer until its sale to Anheuser-Busch in 2015. During his tenure, Elysian was named Large Brewpub of the Year three times at the Great American Beer Festival® (1999, 2003 and 2004). In 2004, Cantwell received the Brewers Association's Russell Schehrer Award for Innovation in Brewing.
He has written for various beer magazines, authored Barley Wine with Fal Allen (Brewers Publications, 1998), The Brewers Association's Guide to Starting Your Own Brewery, Second Edition (Brewers Publications, 2013), and Wood & Beer: A Brewer's Guide (Brewers Publications, 2016) with Peter Bouckaert.
Cantwell, who has served as an international and national beer judge, as well as the Brewers Association's Quality Ambassador, recently became the director of brewing operations at Magnolia Brewing in San Francisco.
Brewing Eclectic IPA: Pushing the Boundaries of India Pale Ale
ISBN: 978-1-938469-46-6
Cover Price: $19.95
Member Presale: May 8 - May 15, 2018
Members of the Brewers Association and American Homebrewers Association will receive advanced access to purchase Brewing Eclectic IPA.
Publication Date: June 4, 2018
Available for preorder via Amazon and Barnes & Noble.