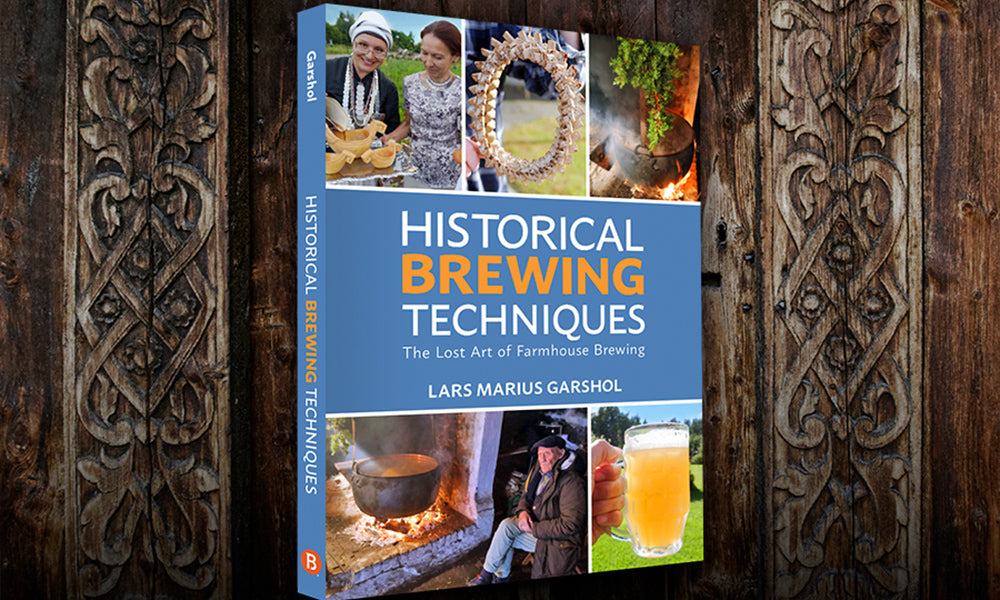 Book explores techniques rediscovered by modern craft breweries
Boulder, Colo. • April 6, 2020 — Historical Brewing Techniques: The Lost Art of Farmhouse Brewing, the latest release from Brewers Publications®, explores ancient brewing traditions and practices that originated in remote areas of northern Europe, including approaches being revived by today's craft brewers. Written by Lars Marius Garshol, a Norwegian software engineer who has spent half a decade researching various aspects of brewing at remote farmhouses throughout Scandinavia and the Baltic countries, the book brings readers along for a journey that is equal parts history, cultural anthropology, social science, and travelogue, all through the lens of beer.
In the book, Garshol writes about uncovering kveik, an unusual strain of yeast, which has diverse and appealing properties, such as tolerating a wide variety of temperatures and fermenting beer to completion in just 36 hours. Garshol's work documenting the yeast has spurred today's suppliers to sell multiple strains of kveik in the U.S. and has inspired craft brewers to experiment with brewing Norwegian farmhouse ales and India Pale Ales made with kveik. Kveik continues to become more popular, experiencing a renaissance in the American craft beer market, among homebrewers and professionals alike.
"'Farmhouse ale' is a term used by many yet understood by few. Lars Garshol is one who gets it, and he shares his wealth of knowledge in this book," said Stephen Beaumont, co-author of The World Atlas of Beer and author of Will Travel for Beer. "It's not a beer style guide, but rather a fascinating look into the myriad ways beer was made prior to industrialization. It's a compelling read for brewers and beer aficionados alike."
Brewers Publications supports the mission of the Brewers Association by publishing books of enduring value for amateur and professional brewers, as well as titles that promote understanding and appreciation of American craft beer. With over 60 titles to choose from, it's the leading publisher of contemporary and relevant brewing literature for today's craft brewers, homebrewers, and beer enthusiasts.
Those interested in reviewing Historical Brewing Techniques may download a digital galley here. To schedule an interview with the author, please contact Jenelle Scott, Backbone Media. For additional information, visit the Brewers Publications website.
Author: Lars Marius Garshol
ISBN: 9781938469558
EISBN: 9781938469619
Size: 7″ x 10″, 432 pp
Format: Paperback
Cover Price: $24.95
Publication Date: April 30, 2020
Member Presale April 6 – April 13, 2020: Brewers Association and American Homebrewers Association members receive a 30% discount.
Contact: Jenelle Scott (on behalf of the Brewers Association) 970-963-4873 x224
###
About the Brewers Association
The Brewers Association (BA) is the not-for-profit trade association dedicated to small and independent American brewers, their beers and the community of brewing enthusiasts. The BA represents 4,800-plus U.S. breweries. The BA's independent craft brewer seal is a widely adopted symbol that differentiates beers by small and independent craft brewers. The BA organizes events including the World Beer Cup®, Great American Beer Festival®, Craft Brewers Conference® & BrewExpo America®, SAVOR™: An American Craft Beer & Food Experience, Homebrew Con™, National Homebrew Competition and American Craft Beer Week®. The BA publishes The New Brewer® magazine, and Brewers Publications® is the leading publisher of brewing literature in the U.S. Beer lovers are invited to learn more about the dynamic world of craft beer at CraftBeer.com® and about homebrewing via the BA's American Homebrewers Association® and the free Brew Guru® mobile app. Follow us on Facebook, Twitter and Instagram.
The Brewers Association is an equal opportunity employer and does not discriminate on the basis of race, color, national origin, gender, religion, age, disability, political beliefs, sexual orientation, or marital/familial status. The BA complies with provisions of Executive Order 11246 and the rules, regulations, and relevant orders of the Secretary of Labor.