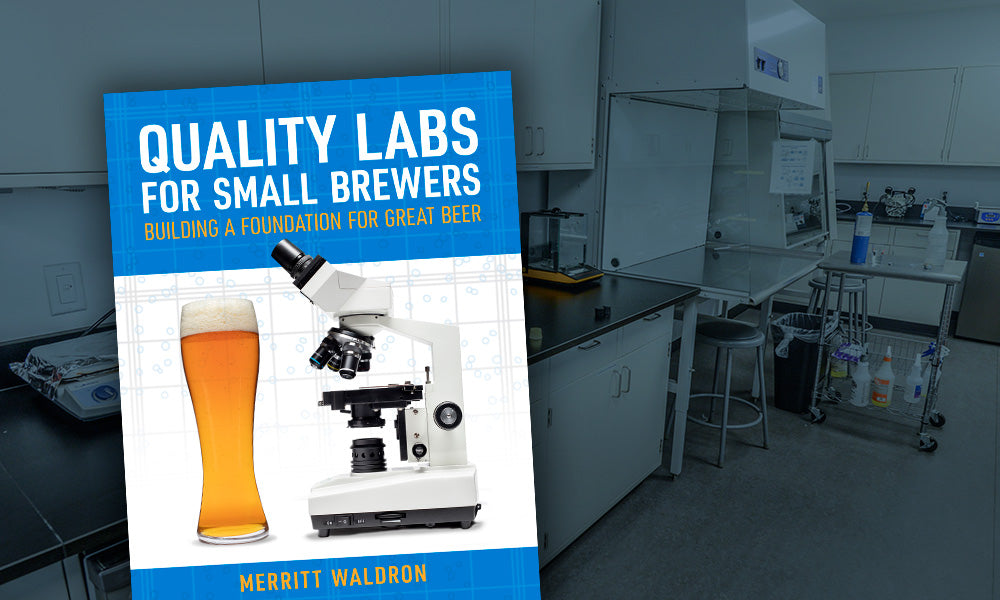 Boulder, Colo. •  July 14, 2020 — Quality Labs for Small Brewers: Building a Foundation for Great Beer, the latest release from Brewers Publications®, emphasizes the importance of establishing a quality program for every brewery, no matter the size. Merritt Waldron, author and Quality Director at Baxter Brewing Co. in Lewiston, Maine, walks readers through a step-by-step process on how to execute a quality program at any brewery.
As many breweries across the country re-open following restrictions due to the global health pandemic, implementing policies, procedures, and specifications to directly influence the consistent production of safe, quality beer is more relevant than ever.
"Quality beer is essential to the success of any great brewery. This book ensures that only quality beer reaches the consumer, time after time," said Waldron. "With the programs outlined in this book, breweries at any scale will be able to dive beyond the numbers and help pinpoint any risks or areas of improvement in their beer."
To schedule an interview with author Merritt Waldron please contact Sarah Pariseau, Backbone Media. For more information, please visit the Brewers Publications website.
Quality Labs for Small Brewers: Building a Foundation for Great Beer
Author: Merritt Waldron
ISBN: 9781938469633
EISBN: 9781938469640
Size: 8.5 x 11 inches, 296 pp
Format: Paperback
Cover Price: $95
Publication Date: August 3, 2020
With more than 60 titles to choose from, Brewers Publications is the leading publisher of contemporary and relevant brewing literature for today's craft brewers, homebrewers, and beer enthusiasts. Brewers Publications supports the mission of the Brewers Association by publishing books of enduring value for amateur and professional brewers, as well as titles that promote understanding and appreciation of American craft beer.
About the Brewers Association 
The Brewers Association (BA) is the not-for-profit trade association dedicated to small and independent American brewers, their beers and the community of brewing enthusiasts. The BA represents 5,400-plus U.S. breweries. The BA's independent craft brewer seal is a widely adopted symbol that differentiates beers by small and independent craft brewers. The BA organizes events including the World Beer Cup®, Great American Beer Festival®, Craft Brewers Conference® & BrewExpo America®, SAVOR™: An American Craft Beer & Food Experience, Homebrew Con™, National Homebrew Competition, and American Craft Beer Week®. The BA publishes The New Brewer® magazine, and Brewers Publications® is the leading publisher of brewing literature in the U.S. Beer lovers are invited to learn more about the dynamic world of craft beer at CraftBeer.com® and about homebrewing via the BA's American Homebrewers Association® and the free Brew Guru® mobile app. Follow us on Facebook, Twitter, and Instagram. 
Contact: Sarah Pariseau (on behalf of the Brewers Association), sarah.pariseau@backbonemedia.net, 970.963.4873 x227

The Brewers Association is an equal opportunity employer and does not discriminate on the basis of race, color, national origin, gender, religion, age, disability, political beliefs, sexual orientation, or marital/familial status. The BA complies with provisions of Executive Order 11246 and the rules, regulations, and relevant orders of the Secretary of Labor
.