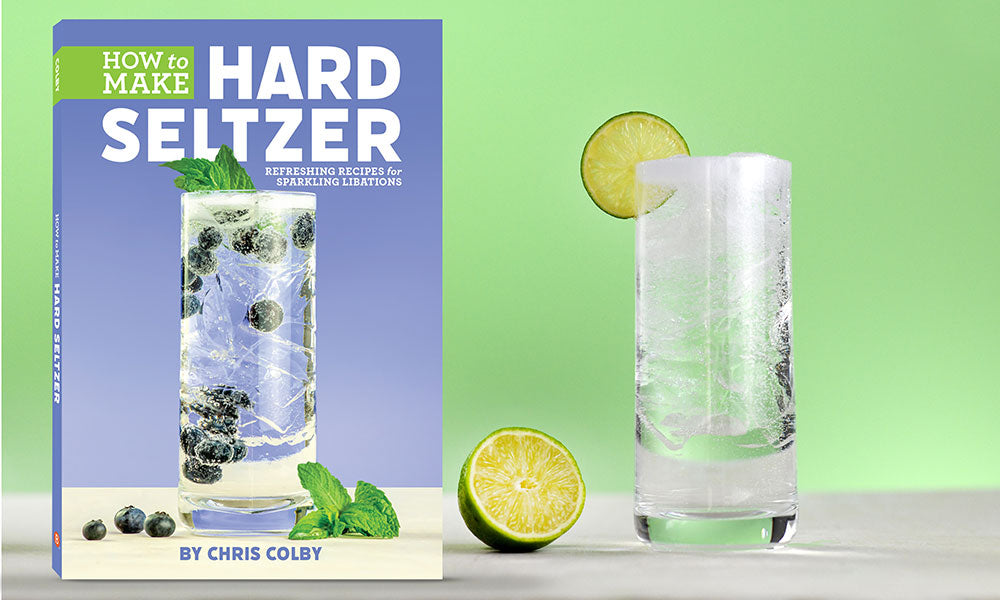 How to Make Hard Seltzer: Refreshing Recipes for Sparkling Libations
provides valuable tools for breweries and homebrewers
Boulder, Colo. • August 18, 2020 — How to Make Hard Seltzer: Refreshing Recipes for Sparkling Libations, the latest release from Brewers Publications®, is the first comprehensive book on hard seltzer. Written by Chris Colby, celebrated beer author and homebrewer, this guide provides recipes and advice from the country's best hard seltzer producers on making seltzer for both commercial and home enjoyment. Featuring everything from brewing details to guidance around the differing government regulations, to cocktail recipes, How to Make Hard Seltzer is essential reading for breweries and homebrewers alike.
"Until now, there has been no guide to navigating this relatively new beverage," said Colby. "This book is a tool, for anyone interested in making it, whether that be a small craft brewery or a hard seltzer enthusiast."
Hard seltzer is a skyrocketing category in the world of lifestyle beverages and many craft breweries are expanding their artisanal skills to make this refreshing and popular drink. The beverage continues to hit staggering numbers that suggest this trend is here to stay; according to sales data hard seltzer grew 140% year-over-year in the four week period ending on July 12, 2020.
"As this category continues to grow, adding hard seltzer to the lineup is proving itself to be beneficial as both a short- and long-term business plan for any brewer." Colby added.
Brewers Publications supports the mission of the Brewers Association by publishing books of enduring value for amateur and professional brewers, as well as titles that promote understanding and appreciation of American craft beer. With over 60 titles to choose from, it's the leading publisher of contemporary and relevant brewing literature for today's craft brewers, homebrewers, and beer enthusiasts.
Those interested in reviewing How to Make Hard Seltzer may download a digital galley here. To schedule an interview with the author, please contact Sarah Pariseau, Backbone Media. For more information, please visit the Brewers Publications website.
Author: Chris Colby
ISBN: 9781938469657
EISBN: 9781938469664
Size: 6″ x 9″, 192 pp
Format: Paperback
Cover Price: $19.95
Publication Date: September 7, 2020
Member Presale August 18 – August 25, 2020: Brewers Association and American Homebrewers Association members receive a 30% discount and free standard shipping.
Contact: Sarah Pariseau (on behalf of the Brewers Association) 970-963-4873 x227
###
About the Brewers Association
The Brewers Association (BA) is the not-for-profit trade association dedicated to small and independent American brewers, their beers and the community of brewing enthusiasts. The BA represents 4,800-plus U.S. breweries. The BA's independent craft brewer seal is a widely adopted symbol that differentiates beers by small and independent craft brewers. The BA organizes events including the World Beer Cup®, Great American Beer Festival®, Craft Brewers Conference® & BrewExpo America®, SAVOR™: An American Craft Beer & Food Experience, Homebrew Con™, National Homebrew Competition and American Craft Beer Week®. The BA publishes The New Brewer® magazine, and Brewers Publications® is the leading publisher of brewing literature in the U.S. Beer lovers are invited to learn more about the dynamic world of craft beer at CraftBeer.com® and about homebrewing via the BA's American Homebrewers Association® and the free Brew Guru® mobile app. Follow us on Facebook, Twitter and Instagram.
The Brewers Association is an equal opportunity employer and does not discriminate on the basis of race, color, national origin, gender, religion, age, disability, political beliefs, sexual orientation, or marital/familial status. The BA complies with provisions of Executive Order 11246 and the rules, regulations, and relevant orders of the Secretary of Labor.