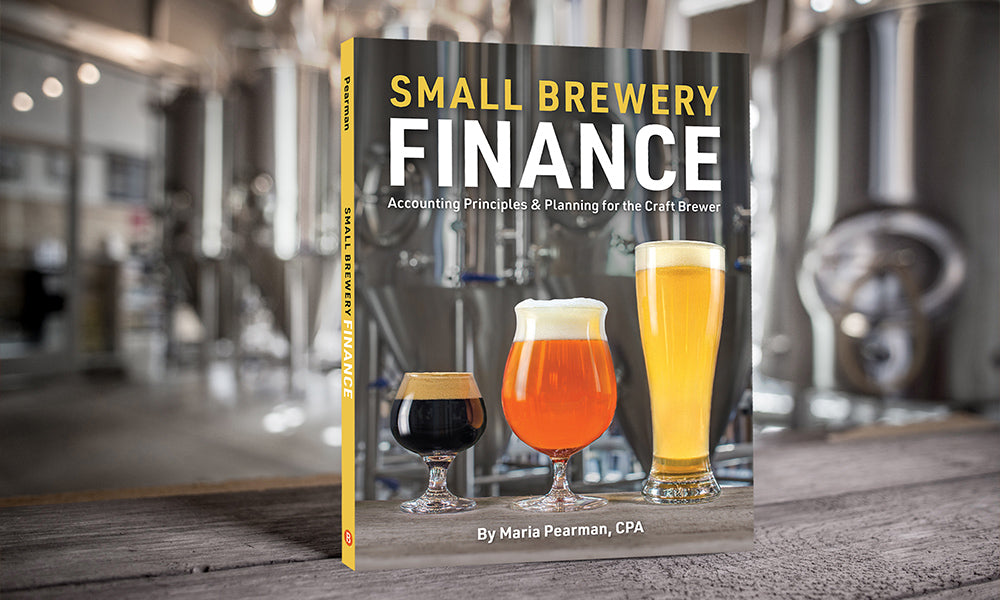 Latest release offers financial guidance for small brewers
Boulder, Colo. • October 7, 2019 — With over 7,000 U.S. breweries in operation and nearly 2,000 more in the planning stage, Small Brewery Finance: Accounting Principles and Planning for the Craft Brewer, the newest release from Brewers Publications®, is a requisite resource for brewery owners and entrepreneurs competing in today's market. Written by Maria Pearman, certified public accountant, Small Brewery Finance is a comprehensive, results-oriented guide to building a foundation of financial principles to help breweries start and run successful businesses.
Small Brewery Finance offers a framework for interpreting financial reports, building budgets and creating pro-forma financial statements for launching a brewery, purchasing additional equipment, or scouting a new location. Pearman simplifies the accounting processes needed at each stage of brewery development through expert tips, practical applications, templates and reference materials.
"Your brewery is more than a small business – it's a fulfillment of your dream to share a love for quality craft beer and beverages," said Pearman, Principal at Perkins & Co. in Portland, OR. "Small Brewery Finance helps elevate that dream by providing the necessary tools for economic success."
Pearman will tour to promote the book and is available to speak with groups in the brewing community.
Brewers Publications supports the mission of the Brewers Association by publishing books of enduring value for amateur and professional brewers, as well as titles that promote understanding and appreciation of American craft beer. With over 60 titles to choose from, it is the leading publisher of contemporary and relevant brewing literature for today's craft brewers, homebrewers, and beer enthusiasts.
Those interested in reviewing Small Brewery Finance may complete the review request form here. For more information, please visit the Brewers Publications website.
Small Brewery Finance: Accounting Principles and Planning for the Craft Brewer
Author: Maria Pearman, CPA
ISBN: 9781938469527
EISBN: 9781938469534
Size: 8-1/4" x 10-3/4", 216 pp
Format: Paperback
Cover Price: $95.00
Publication Date: Oct. 7, 2019
Contact: Calvin Bond (on behalf of the Brewers Association) 970-963-4873 x262 
About the Brewers Association
The Brewers Association (BA) is the not-for-profit trade association dedicated to small and independent American brewers, their beers and the community of brewing enthusiasts. The BA represents 5,000-plus U.S. breweries. The BA's independent craft brewer seal is a widely adopted symbol that differentiates beers by small and independent craft brewers. The BA organizes events including the World Beer Cup®, Great American Beer Festival®, Craft Brewers Conference® & BrewExpo America®, SAVOR™: An American Craft Beer & Food Experience, Homebrew Con™, National Homebrew Competition and American Craft Beer Week®. The BA publishes The New Brewer® magazine, and Brewers Publications® is the leading publisher of brewing literature in the U.S. Beer lovers are invited to learn more about the dynamic world of craft beer at CraftBeer.com® and about homebrewing via the BA's American Homebrewers Association® and the free Brew Guru® mobile app. Follow us on Facebook, Twitter and Instagram.
The Brewers Association is an equal opportunity employer and does not discriminate on the basis of race, color, national origin, gender, religion, age, disability, political beliefs, sexual orientation, or marital/familial status. The BA complies with provisions of Executive Order 11246 and the rules, regulations, and relevant orders of the Secretary of Labor.